Brand: State Bank of India
Owned by: The Government of India
Logo Designer: Shekhar Kamat, NID, Ahmedabad
Click here to download a high resolution logo
Design brief: "The circular form of the emblem suggests unity, completeness, the fullness of man's being and his growing consciousness and continual expansion (of the bank); like concentric rings in water, to cover the entire country; the small circle in the centre connotes that despite the bank's size, it is the small man who holds the centre of State Bank stage.
Viewed from another angle, the small circle with the vertical line suggests a keyhole — the symbol of safety, security and strength. Through the keyhole, one could glimpse the future, with its promise of progress, of growth and fulfilment in business and life."
The standard color of the emblem is "coats fast blue."
Logo release: 01 October 1971, on the day of inauguration of SBI Central Office building at Backbay Reclamation.
Previous logo: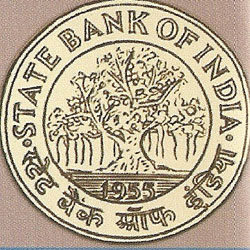 Image courtesy: Rajeev Prasad of 'Coins and More' Blog
The first Emblem of the State Bank of India adopted in 1955 is showing a banyan tree. The banyan tree has strong roots and its branches are capable of propagating and growing because of its aerial roots.
Relevant links:
Relevant literature:
Page 738 of the book Evolution Of The State Bank Of India, Vol. 4 : The Era From 1955 To 1980, Author: Abhik Ray